I scored a pair of these fantastic Mid Century Danish chairs for only $5 a piece (complete with a made in Denmark inscription)! I still don't know where exactly I want to put them, but I knew I couldn't pass them up. They sat in my "I-may-need-this-one-day" pile for almost a year before I decided to finally tackle the project. They actually weren't in that bad of shape - minor scratches all over the body of the chair and a horrendous all black wood-grain patterned iridescent fabric.
S T E P O N E | D E S I G N P L A N
I decided to keep the look clean and traditional by simply restoring the natural wood color (rather than staining) and upholstering with black vinyl leather-looking fabric. I found some fabric in the sale section of Joann's that was the perfect mix of the real-leather look with a buttery soft texture (sorry I didn't catch the name).
Via
Cen City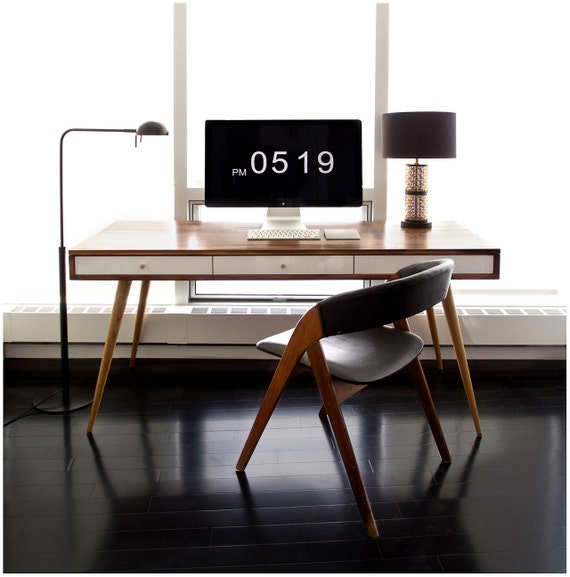 S T E P T W O | R E S T O R I N G W O O D F R A M E
I know a lot of bloggers have used
Restore-A-Finish
successfully and swear by it, so I had pretty much settled on using it too. However, I came across a DIY for restoring wood that seemed too easy not to try - oil & vinegar. I figured, if it worked I would save myself some money and if it didn't, then nothing was lost. Well guess what?? It worked beautifully. I used 1/4 cup white vinegar mixed with 1/4 cup olive oil. Check out the results:
| B E F O R E |
| A F T E R |
Keep in mind that the top parts are covered by the seat, so they are a little more beat up and I also didn't bother trying to make them look pretty. The after pic looks a lot more red, but it must just be the lighting. The oil/vinegar duo did darken and brighten the wood up but these color change isn't as drastic in person.



S T E P T H R E E | R E U P H O L S T E R I N G
The seat cushions were in great shape, so I didn't need to add any extra padding. I will skip the details on recovering the seat as it's pretty straight-forward and most of you have already seen it (or done it) a million times.
To cover the backrest, I carefully examined the way it was originally done and tried my best to mimic that, but ultimately I couldn't get the backrest done perfectly enough for the OCD person in me, so I got some help with this part. Looks like the issue was the fabric I chose made it hard to tuck without any puckering. We went with two pieces, piping, and nail-head trim on the edges.
S T E P F O U R | F I N A L T O U C H E S
If you don't already know, I'm obsessed with painting things gold, so it should come as no surprise that I thought these chairs could use a little bit of gold accents. After scouring some pictures, I noticed that a lot of mid-century chairs had little gold caps on the legs. This gave me the inspiration to dip the tips of the chair legs gold. I tested it out by painting some painters tape gold, and then putting it on the chairs to see if I liked the look. Of course I did. So then I measured the perfect height (2 in) and taped off each leg with painters tape. I used a foam brush and
liquid gold leaf
to paint the feet.
F I N A L P R O D U C T | B E F O R E & A F T E R
Aside from the backrest, this project is definitely fit for beginners. Part of me wishes I had done something more exciting, but ultimately I decided that drastically changing such a classic piece was something I may regret. Who knows, maybe one day I will go wild with some bright paint and patterned fabric!
Keep in Touch with The Twisted Horn